Nick "U-Gene" Dinsmore to appear on MNM
Courtesy: www.MondayNightMayhem.com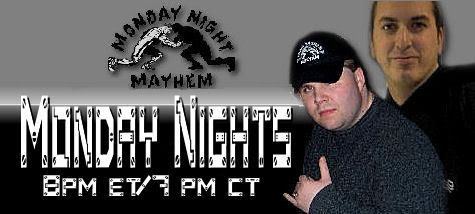 *We strongly encourage all wrestling fans around the world to tune in to a very "special" edition of The Mayhem beginning this Monday night, September 24th (beginning at 8PM ET/7PM CT), as we have just received confirmation from the "Full Throttle Energy Drink Presents: Pro Wrestling Live" event (see below for official event press release) that former WWE superstar, former World Tag Team Champion, & OVW World Champion, Nick "U-Gene" Dinsmore, will be joining The Big Mosh & Blade for his first interview since leaving World Wrestling Entertainment. Nick will be onboard to promote the big event at The Mullins Center in Amherst, MA (which The Mayhem will be giving a pair of tickets away for), in addition to talking about lies ahead next for his career. Teaming up with William Regal & "Hacksaw" Jim Duggan, working alongside Eric Bischoff, the shift from RAW to SmackDown, & much more will be up for discussion with one of the most animated characters & performers in pro-wrestling history.
 
Courtesy: www.FullThrottlePWL.com
 
It has been announced that wrestling superstar Diamond Dallas Page will be making his return to the ring for one night as professional wrestling makes its long awaited return to The Mullins Center. The event is set to take place on Friday, October 5th at 8PM ET, as Full Throttle Energy Drink presents Pro Wrestling Live. "The master of the Diamond Cutter" & three-time WCW World Heavyweight Champion, DDP will be in the main event that evening. His opponent will be one of his long time rivals. That night, Diamond Dallas Page will go one-on-one with Buff Bagwell! In addition, three other matches have been announced as well:
The Mullins Center in Amherst is going to get hardcore & see what extreme really means, as Brother Runt (formerly known as Spike Dudley) will go one-on-one with "The Impact Player" Justin Credible in an Amherst Street Fight. That same night, Amherst is going to see some hot & sexy wrestling diva's square off in the ring, as the lovely Talia Madison will take on "The Canadian Angel" Angel Williams. And finally, the action will take to the sky as Billy Kidman will go toe-to-toe with "Primetime" Elix Skipper in high-flying, cruiserweight action. More matches to be announced in the days ahead.
Furthermore, Prince Nana has contacted the promoters at Prestige Entertainment, and told them that he is issuing an open challenge to anybody who thinks they can compete with The Embassy of Hurricane John Walters and The Outcast Killaz (Oman Tortuga & Diablo Santiago). Who will answer this challenge & when? Stay tuned to find out.
On a side note, Baldo Bomb (Matt Bloom) & D'Lo Brown have informed us that they will be unable to make this event as their Japanese commitments will not allow them to be in the United States at the time of the show. Mr. Bloom and D'Lo would like to apologize to their fans in New England and we at Prestige Entertainment would like to thank them for letting us know in a timely fashion, so we can pass the news on to the fans. We have replaced them with two huge wrestling stars. The first one was Buff Bagwell, who will be competing against DDP on the event, and the other is a very "special" replacement. Just added to this extravaganza is former WWE superstar, U-Gene Dinsmore.
Don't miss this exciting night of hard-hitting, full throttle action which will also be featuring wrestling superstars Maven, Andrew "Test" Martin, The Voodoo Kin Mafia (formerly The New Age Outlaws, Billy Gunn & The Road Dogg), Scotty "Too Hot" Taylor, & The Heartbreakers (Antonio Thomas & Romeo Roselli). Plus, a special guest appearance by the one & only Eric Bischoff.
Tickets for the event are on sale now — including special $54.00 priced ringside seats, which include a pre-event interaction with wrestling superstars (beginning at 6PM ET). College students receive an additional $5.00 discount off lower & upper arena seating by purchasing tickets at the Mullins Center Box Office for a limited time only. Tickets (beginning as low as $19.00) are also available through TicketMaster charge-by-phone at (413) 733-2500, and at www.Ticketmaster.com. For more information, please visit the official event website at www.FullThrottlePWL.com, the Mullins Center website at www.MullinsCenter.com, or contact the Mullins Center Box Office at (413) 545-0505.
 
Take advantage of the Pro Wrestling Live Experience ticket presented by Full Throttle Energy Drink, and let your man out.
Plus, the award-winning man behind G-Funk Sports & Entertainment, the facilitator of the Ring Of Honor PPV deal, Ken Gelman, will also be joining the program to talk about ROH's latest Pay-Per-View, "Driven." You can catch "Driven" replays for only $9.95 now on TVN cable systems & The DISH Network. Check your local listings for channels & times. Look for DISH replays on September 23rd, 25th, 27th, & 30th. Plus, if you have In-Demand, fear not…as Ring Of Honor's "Driven" comes your way on Friday, September 28th. Head on over to www.ROHWrestling.com for more details on this event, as well as the complete cards for ROH's return to Boston & their next PPV taping in Emerson, NJ.
 
And all of the fallout from Pro Wrestling Unplugged's "Power Surge TV" cable television debut (w/"The New Batman" Johnny Kashmere), another installment of "The Week In ECW" (w/The Monster Factory's Jim Molineaux), & much more!
 
Want to submit your questions/comments for U-Gene or Ken? No problem…We will be taking your calls @ (716) 989-6630 (long distance charges may apply), e-mails @ MondayNightMayhem@hotmail.com, your comments/questions/friendship @ www.MySpace.com/MondayNightMayhem, & feedback on The Mayhem's Message Board @ www.MondayNightMayhem.com.
 
*Fans, also remember to e-mail your predictions on the upcoming tri-branded WWE No Mercy Pay-Per-View & the TNA Bound For Glory spectacular to The Mayhem to www.MondayNightMayhem@hotmail.com, MySpace them to www.MySpace.com/MondayNightMayhem, or post them on the official MNM Message Board (located at www.MondayNightMayhem.com). The first place winner will now be getting a $25.00 credit to B. Brown Video (www.BBrownVideo.com), and second place will get a $15.00 credit to B. Brown Video & a case of Sweet Sunshine Sauces (www.SweetSunshine.com).
 
*The Big Mosh & Blade continue the new fall season of "Your Home Of Wrestling Radio," Monday Night Mayhem — this Monday night, September 24th (beginning at 8PM ET/7PM CT) & presented by our fine sponsors/advertisers: Ticket Relief, Sweet Sunshine Sauces, The Monster Factory, Pro Wrestling Unplugged, B. Brown Videos, Sharp Labs, & Pierced Clothing.
 
*Another important reminder — voting in this year's 2007 WWE Diva Search competition is just heating up…so make sure you head over to www.wwe.com/DivaSearch, and vote for The Mayhem's very own Jessica Hatch! Check out her official website (www.JessicaDHatch.com) & her official MySpace page (www.MySpace.com/JessDHatch). Let's get her to the finish line to become one of "the sexiest women on television."
 
*All new & old Mayhem listeners can still check out the archived programs/shows of "Your Home Of Wrestling Radio" (including the voice of Monday Night RAW himself/WWE Hall Of Famer Jim Ross, new WWE Women's Champion Candice Michelle, TNA President Dixie Carter, WWE Hall Of Famer/former WWE Champion The Iron Sheik, Howard Stern's very own Gary The Retard, Vader, Konnan, The Four Horsemen's Tully Blanchard & J.J. Dillon, "The Doctor Of Style" Slick, "The Notorious 187″ Homicide, Danny Doring's first post-WWE interview, "The Wildman" Marc Mero, Diana Hart Smith, "The Mouth Of The South" Jimmy Hart, "Black Machismo" Jay Lethal, Senshi, the legendary voice of the Mid-Atlantic territory, Bob Caudle, the official Monday Night Mayhem WrestleMania 23 Countdown Special from Detroit's Hilton Garden Inn, the "Sensational" Sherri Martel Tribute Special w/Sherri's son, Jared, & the official Monday Night Mayhem WWE Draft Night Special)…now available on www.MondayNightMayhem.com, www.OnlineWorldOfWrestling.com, & www.AudioWrestling.com.